Five Telltale Signs your Company's Safety Culture Needs Work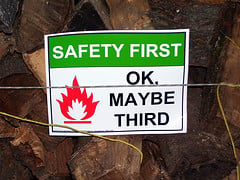 Astute safety professionals who regularly visit different company site locations, start to get a feel for which sites need to improve their safety record, without even having to look at their individual statistics.
Here is a list of five anecdotal signs that are now backed up by research:
1. Clean kitchen, Clean safety record - According to a study by DaveDeJoy and Todd Smith from the University of Georgia's College of Public Health, a well kept site is a sure sign that safety is also cared for.
DeJoy says "If you talk to people who do safety inspections, they will often tell you that the first impression they get when they walk into a factory or construction site - how neat it is and whether employees seem to be actively engaged. Tells them whether or not a workplace is safe or not he says. Now, we have the numbers that back this up across a wide range of settings".
In the book,
The Tipping Point
by Malcolm Gladwell, he refers to the
Broken Windows theory which is that crime is the inevitable result of disorder
. If a window is left broken and unrepaired, people walk by assuming that no cares and no one is in charge. This theory was tested quite brilliantly in New York by cleaning up all the broken windows and graffiti which resulted in high crime rates in New York falling virtually overnight. This is an epidemic theory of crime that can also be attributable to safety. Crime is contagious. So is not caring about where you work and the safety of your workmates.
Fix up your environment (eg: broken/unsafe machinery, PPE that needs replacing) and fix up the safety culture.
2. Work/life balance - The same research study by DeJoy also found that when work interfered with family life or family demands - job performance was affected. In fact, the risk for injury increased by 37 percent.
You can hear evidence of this by listening to staff complain about not getting to their child's school concert or that their partner is getting annoyed at having to do all of the domestic responsibilities.
3. Safety is not integrated across all business units - Progressive companies with a best in class safety record include safety in all of their decisions. It's not thought of right at the end when a job is won during a tendering process. Traditionally, HR and safety have worked separately. According to DeJoy "A lot of organisations including progressive, organisations, are set up so there's a wall between HR and occupational health and safety", he says "But the two can no longer afford to work in silos - they need to break down those walls". HR has an important contribution to make when it comes to creating a culture that values safety, ranging from selecting the right people to putting in place the right work/life programs.
While Jonathan Thomas, manager of survey research services at the National Safety Council in Itasca III, agrees that greater collaboration between HR and occupational health and safety professionals is crucial. "It's apparent that the things HR leaders are most concerned about are also the building blocks for building a safe workplace," he says.
Physical evidence of this is when safety and HR don't talk to each other in corridors or communicate very rarely (and when they do, it can get a bit gruff). Ideally, their offices need to be located close by.
4. Good supervisors - Various research studies have shown that positive communication relations between supervisors and employees improves safety performance.
Importantly, where employees are able to more freely raise safety concerns because their supervisor encourages communication, fewer accidents occur, provided that management takes action on the safety issues.
A good supervisor fosters positive safety attitudes and encourages sharing important safety-related information. Supervisors need to be the doorway to senior staff and frontline staff and be able to facilitate open and equal communications with both levels.
Evidence of a great supervisor is that everyone, at all levels, can communicate with them and things get done (if you need help with training your supervisors on how to improve their collaborate and connection skills, see our 9 Creative Communication Techniques to Improve Toolbox Talks training range).
5. "Us" v. "Them" - In the book, Drive, by Daniel Pink, he mentioned that former US labor secretary Robert B. Reich has developed a simple diagnostic tool to assess the health of any company. When Reich talks to employees, he listens carefully for the pronouns they use. Do staff refer to their company as "we" or "they"?
"They" suggests disengagement and at its worst, alienation. While "we" suggests that employees feel as of they are part of something meaningful and significant.
If you walk around any factory or construction site and hear workers talking about "they" when referring to the company, you know that both morale and safety are issues. Again, this is when a good supervisor can smooth out any bumps between management and the workforce.
What other telltale signs have you found?
Image credit: Flickr, phil_g