I work with leaders and teams to build trusted team cultures that increase engagement, team credibility and retain great talent.
Sign up to receive my weekly tips and insights!
Learn tips, tricks and challenge your world view to help you build trust fast, in order to reduce risk, so your team can focus on results.
Building Trust Leadership Insights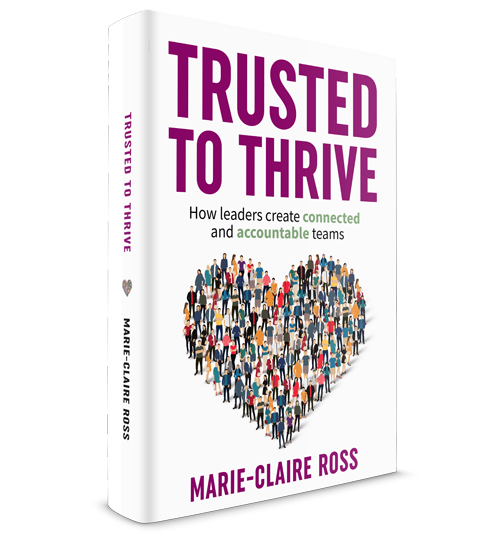 MARIE-CLAIRE's

NEW BOOK

Learn how to create workplaces where people feel connected, safe and inspired about the future.
SPEAKING

"Marie-Claire's workshop to our 550 safety leaders was phenomenal. Everyone has been given some very good tools and questions to improve trust. Absolutely phenomenal."
COACHING

"It was clear that for team members who went through ongoing coaching with Marie-Claire - their confidence in trying different things increased a lot. They gained the confidence to try and be a better manager, to try different techniques and they gained some understanding in responding their team and taking the feedback and turn that into something better. I think they were also better at receiving and interpreting feedback. Less defensive when they were receiving feedback as to why they were being criticised or why their team weren't responding in the way they would have hoped. It was a good way to reinforce the learning and create new habits."
FACILITATING

"Thank you for providing an excellent workshop for TEC KEY 102. You were very effective in engaging with the TEC members and you received excellent ratings from members. By emphasising exercises with the tools in small member groups throughout all of the workshop you raised the level of engagement and learning for everyone. I very much appreciated your professionalism and receptiveness to members."
TRAINING

"Trust is something that I believe is an incredibly important issue. Currently, I've got two really important relationships that I'm struggling with around trust. My natural operation is more instinctual. This workshop has provided me with a clear process of how I can approach it in a different way. I thought the workbook and approach used was brilliant."
Safety Programs

"After disappointing results with previous safety campaigns, we tried the SELLSAFE techniques that gave us new strategies to make our communication clearer and easier to understand. Now, we're finding that we're having better success getting through to our 560 employees with more focused communication that's getting positive feedback from employees and supervisors. They're even using our pamphlets to help remind and train employees. Thank you, Marie-Claire, we owe you a debt of gratitude to sharing for sharing your marketing principles in your book, we which have enabled us to more effectively reach our target audiences."
SUCCEED Together® Assessments

"Good in depth characterization of behaviours to build high trust. The assessment was good to allow myself to reflect on my own current capabilities and growth areas. I am inspired to reflect on the workshop and adopt the practices into my leadership toolkit."