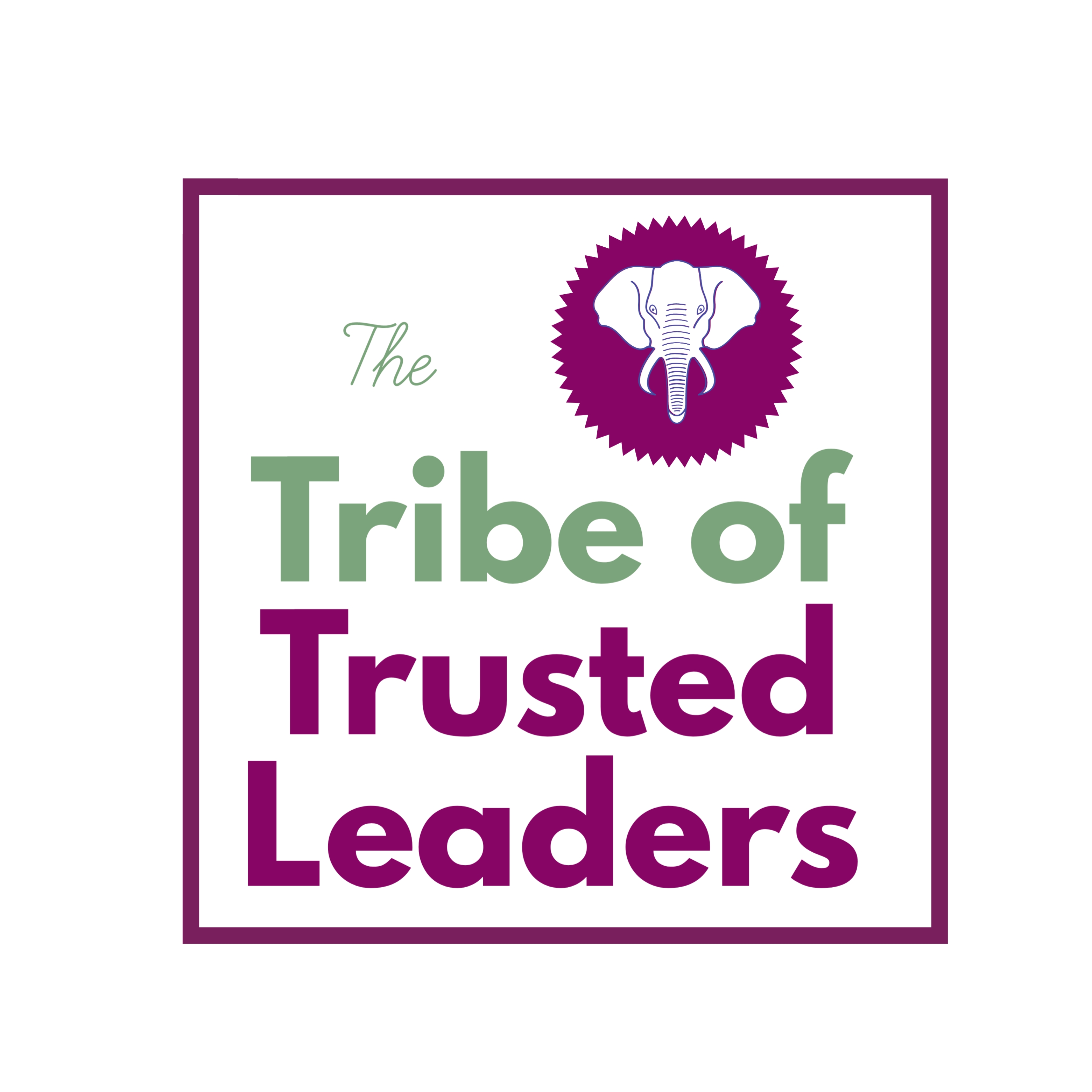 ATTENTION: LEADERS OR MANAGERS OF A NEW OR EXISTING TEAM
HOW TO BOOST YOUR LEADERSHIP AND ACCELERATE YOUR TEAM'S IMPACT
The world needs trusted leaders to step up more than ever right now.
Leaders who believe in supporting their direct reports, creating a thriving team culture and accomplishing amazing results together.
If you believe that you have a higher purpose to lead your team to greatness (or a challenging remit), then it's time for you to get the guidance and support you need.
Maybe your team are uncertain and overwhelmed with large workloads, personal issues or being in a new team.
Or maybe your team need to take ownership, be more proactive and get work done on time. You find it a struggle to get them aligned and engaged.
Or perhaps you have a new team that had previous toxic leadership and they fear speaking up or believing things can be better. Sporadic corporate communication, regular company changes or hybrid work make it hard for you to lead consistently.
There has never been a better time to create a thriving environment where people wake up excited about working with their colleagues to learn, experiment and solve complex problems.
And it all comes down to you - to lead the way and be the example.
So let's get you going!
The Tribe of Trusted Leaders is a people management course. It is the perfect support system to help you create a confident, capable and thriving team.
Unclear on how to get the best out of your team in your current environment.
Fearful of being labelled a micromanager.
Worried that you are limited by a lack of formal leadership training which might impact your career and team's success.
Wasting time and effort using leadership techniques that aren't improving results.
Frustrated that some team members aren't accountable or productive.
...Don't worry you're not alone. And you're in the right place!
In the leadership mastermind group, you get the support, encouragement and advice you need ensuring you get results faster, so you don't waste time and effort muddling through by yourself.
I show you a system to help you more effectively connect with your team members and help them feel safe. I provide you with communication frameworks so you know what to say to improve expectations, directives and receive and give the right feedback. And I give you easy to use tools to help reduce overwhelm in your team.
Not only that, you receive the support and guidance you need to help you feel more confident and capable, ensuring you receive the career success and recognition you deserve while your team gets work done to a high standard.
WHY I CREATED THE TRIBE OF TRUSTED LEADERS
Having run my own business for over 20 years, I quickly learnt that to have teams working around the world successfully I had to build trust with each team member. It took trial and error to get it right.
Later, when I set out to teach leaders how to build trust, I realised it isn't an easy topic to unpack and learn quickly in a workshop.
Over the last eight years, I've worked with hundreds of leaders and managers. The ones who got the best results had the time and space to try new things and get advice on what has worked and what hasn't. Creating happy employees who work well together, and support you, takes time and commitment. It is so much easier when you have a guide to show you the way.
Not only that, we are more likely to change and grow when we are part of a supportive community who are also learning and experimenting together.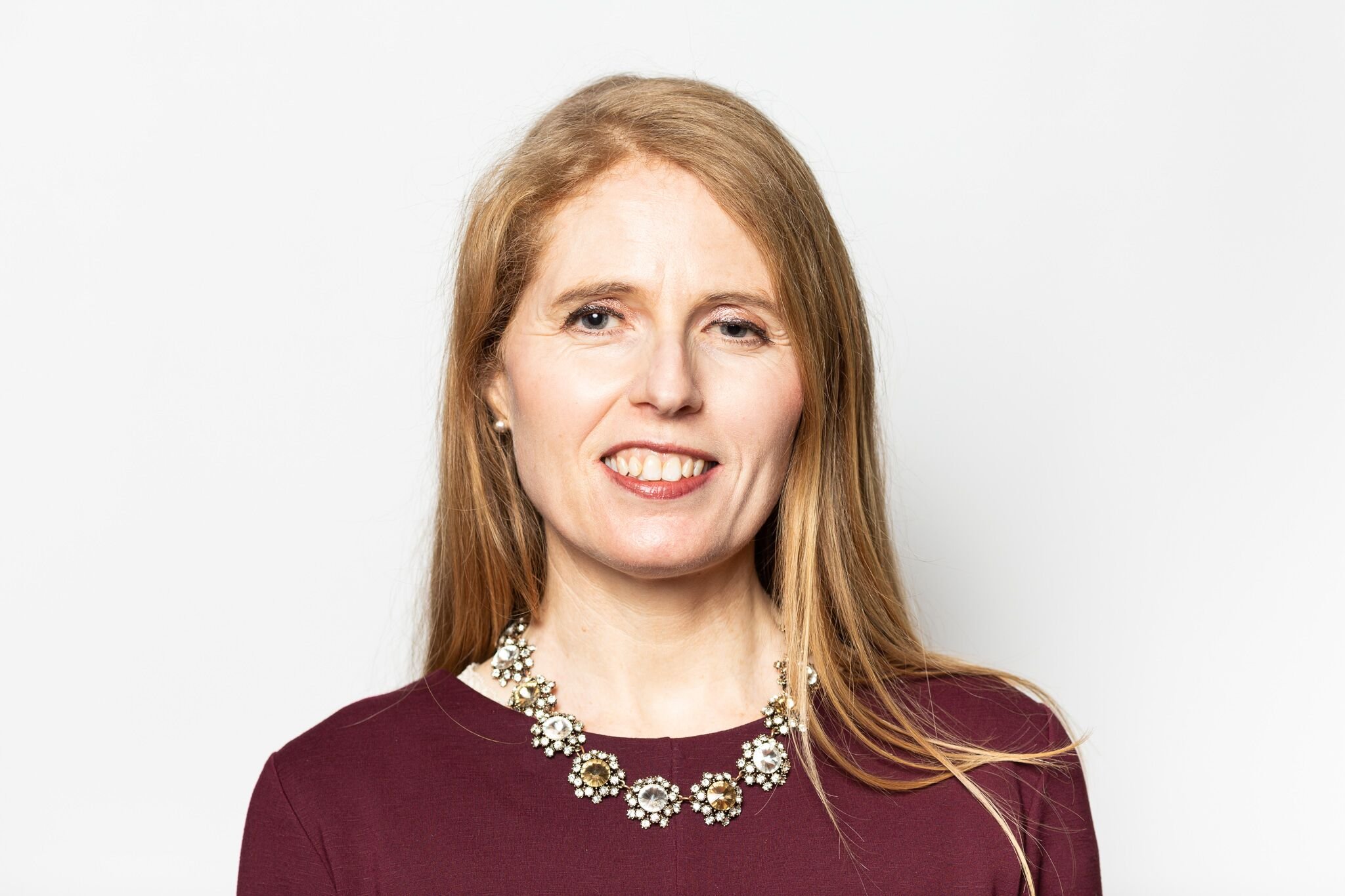 Marie-Claire Ross, coach and trainer for Tribe or Trusted Leaders and author of Trusted to Thrive: How Leaders create connected and accountable teams. She has also been nominated Top 50 B2B Thought Leaders & Influencers You Should Work With In 2023 (APAC).
ABOUT THE TRIBE OF TRUSTED LEADERS - LEADERSHIP TRAINING FOR NEW MANAGERS
The Tribe of Trusted Leaders is for a select group of aspirational leaders - learning, connecting, growing and supporting one another as they do the work on their leadership journey.
You receive frameworks, checklists and easy-to-use templates during monthly online training.
Fortnightly coaching and feedback is provided in Q&A sessions.
The Tribe includes 12-months access to the Community hub - a place where you can ask questions, access recordings and download your resources.
WHAT YOU WILL LEARN & ACTION OVER 90 DAYS
Every quarter there is an overarching leadership theme. Monthly topics are designed to be responsive to the cohort and maximise your growth. The content that you will get access to is:
Term 1- Leading Yourself
This is where you learn about yourself and what type of leader you want to be, so that you can set your leadership development goals.
Recognise your strengths and leadership style.

Learn deep insights about yourself to improve self-awareness.

Work with your triggers for sustainable performance.




Harness a growth mindset.

Strengthen how you trust yourself and lead authentically.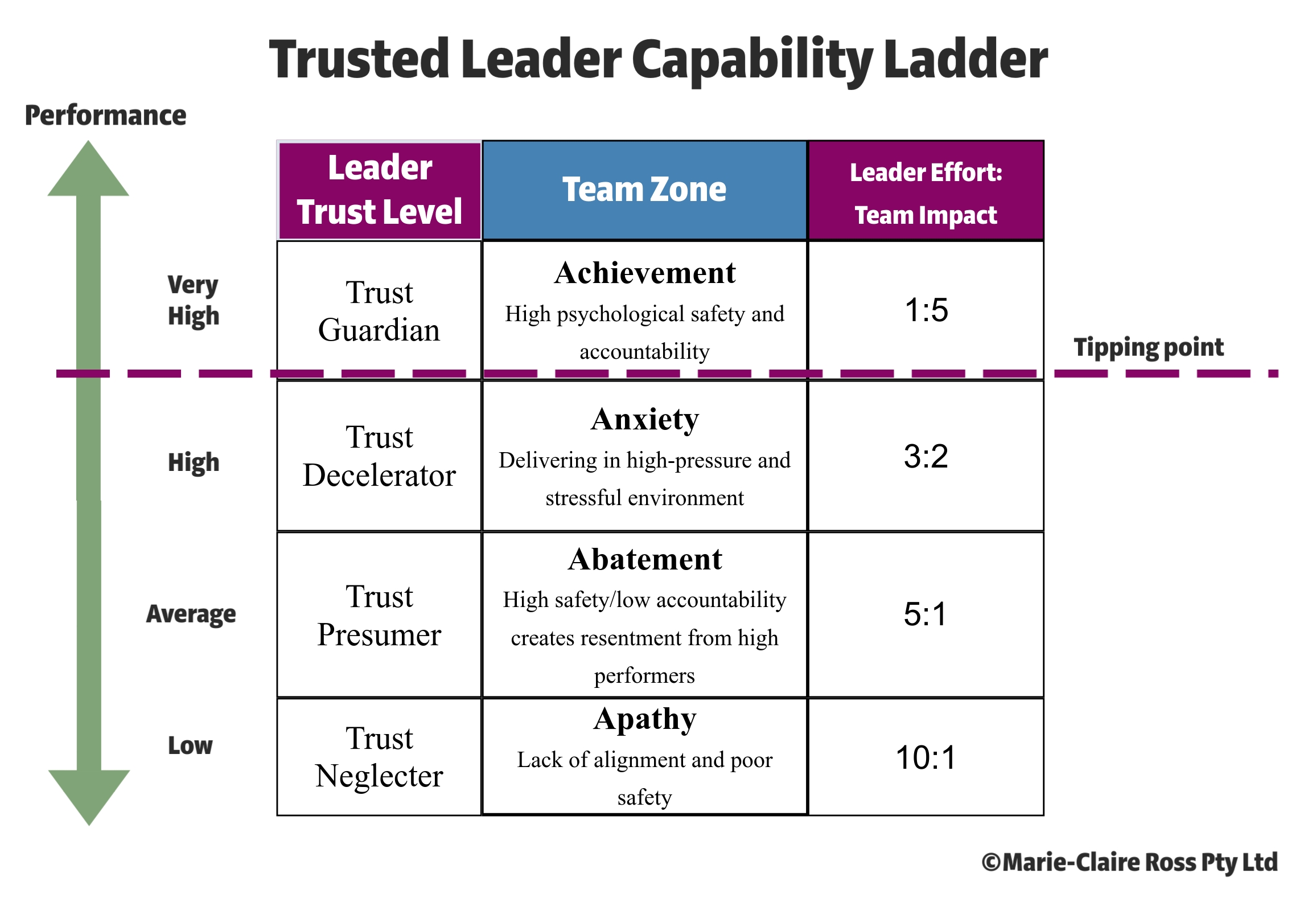 TERM 2- Leading Your Reports
This helps you understand others better and what you can do to help each team member thrive.
Learn techniques to build trust faster.

Discover how to help employees find meaning in their work.

Explore tools to improve accountability and performance in your team and yourself.

Unlock potential in others and reduce overwhelm.

Lead both high and lower performers

Help others feel comfortable with change.

Providing micro performance conversation frameworks to provide quick and regular feedback.

Mid-point check in with your goals (30 minute session with Marie-Claire)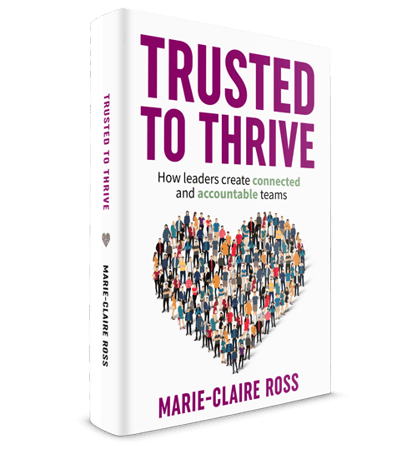 TERM 3- Leading Your TEAM
Improve your team's mindset to be more achievement-oriented.
Unpack the core pillars of the Integrated Trust Building System.

Learn techniques to build safety in your team.

Discover how to run better meetings.

Identify how to connect team members together and across the organisation.

Awaken people's excitement for a bright future.

Implement techniques to build confident and capable teams.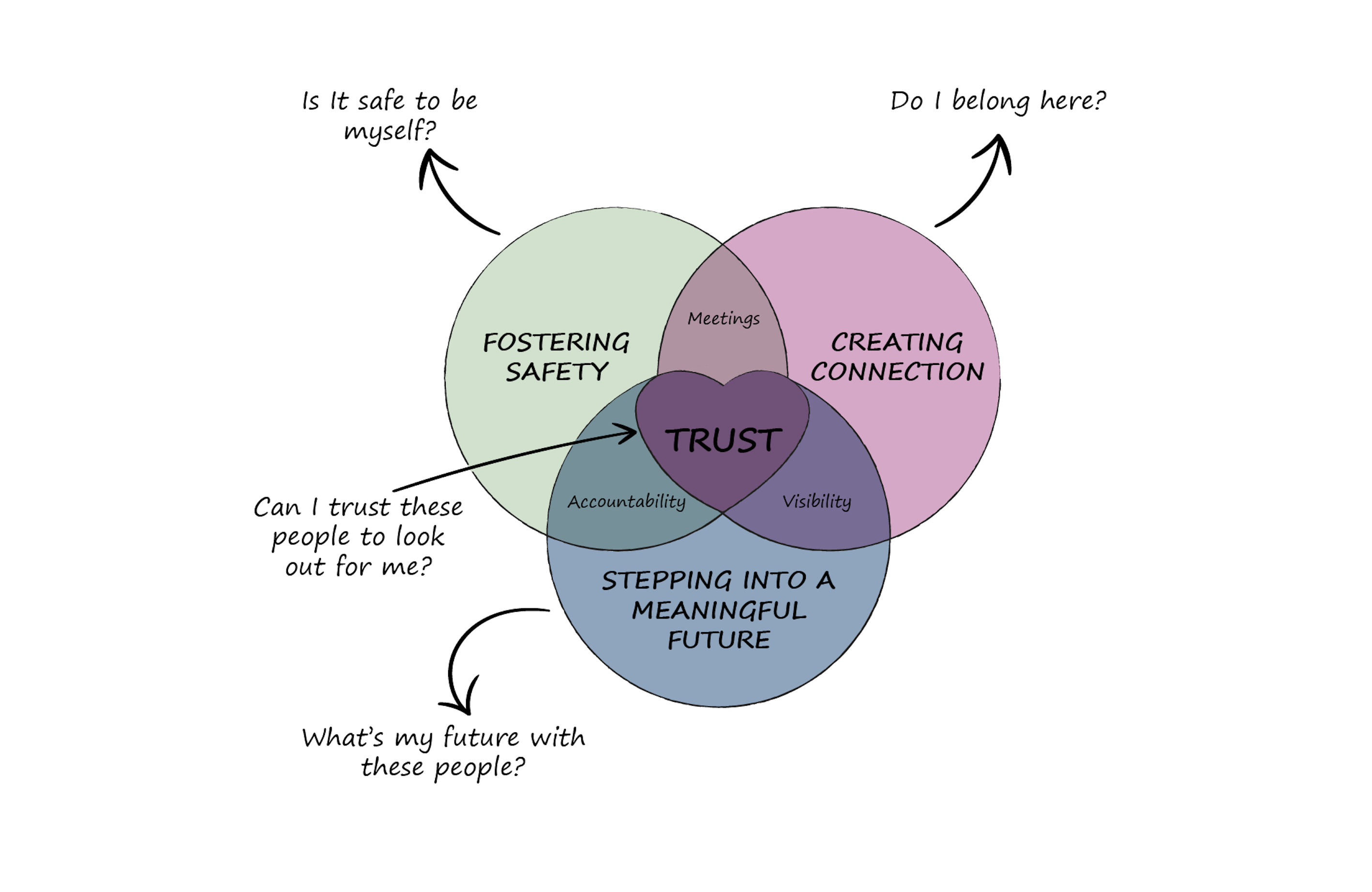 "Marie-Claire teaches you how to build trust by example. From the first moment we spoke on the phone, Marie-Claire had my trust. She listened to me carefully, understood my struggles, and came up with a plan to help me overcome the challenges. During our sessions, she showed me no judgement. I always felt comfortable to open up to her about my experience and my thoughts. Marie-Claire has taught me that it's all possible for me. I'm now more confident and I know I'm capable of handling tough situations at work. This is the growth that I was looking for, and Marie-Claire certainly invoked it. I strongly recommend Marie-Claire to anyone that wishes to improve their work experience."
"I can't thank Marie-Clare enough for the support and confidence she gave me throughout the program and I have no hesitation in recommending anyone that believes they, or their teams, could use some development and leadership coaching. Marie-Claire was always on topic and had the intuitiveness to understand what I needed. She assisted me with the tools I needed to understand, plan and develop into the role very quickly."
AVAILABLE IN EITHER

MONTHLY

OR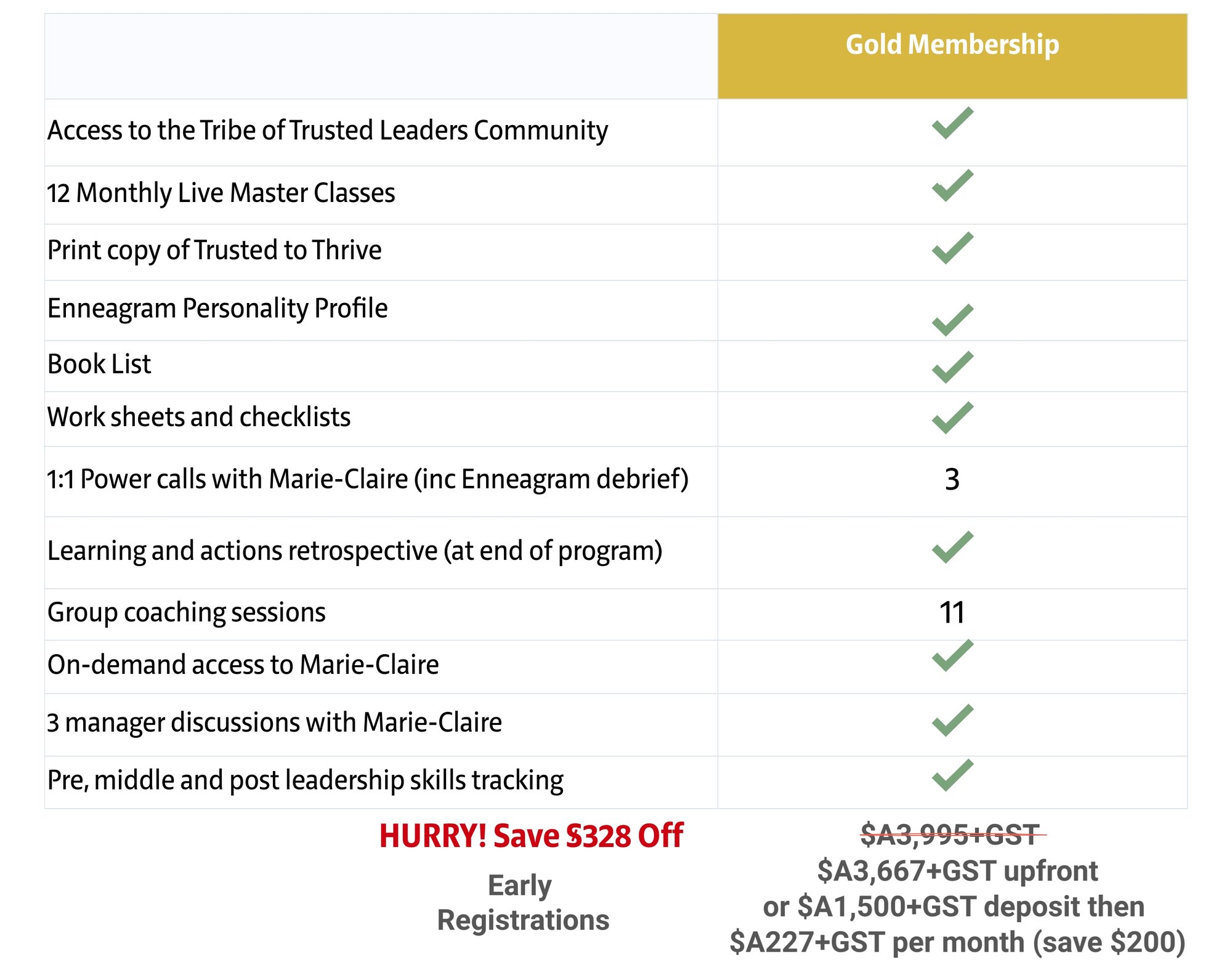 INCLUDED: Get Your Manager Involved in your Leadership Development
The research shows that leadership is best learnt if leaners are accountable. It is strongly recommended that your manager gets involved with your leadership development plan.
This requires three separate meetings with Marie-Claire:
1. Pre leadership development goals (30 minutes) - input into your leadership capabilities and what is needed for the business and your role to succeed. This also includes an online assessment of their capabilities.
2. Mid-point leadership development goals (30 minutes) - input into how you are tracking, what has improved and what needs improvement. This also includes an online assessment of their capabilities.
3. Post leadership development goals (60 minutes) - input into what has changed and what hasn't that will be incorporated into the final debrief with Marie-Claire. This also includes an online assessment of their capabilities.
Questions and Answers
Get answers to your questions here
Who is it for?
Tribe of Trusted Leaders is for purpose-driven leaders and managers (employed or self-employed) committed to their own personal development and creating thriving, healthy teams and workplaces. Leaders who believe that leading with trust creates better outcomes for all. It's for those running a new team, returning to leading a team or who wish to boost their team results.
The program is applicable to leaders and managers with 3 plus years leadership experience.
What if I can't make the monthly training?
All sessions are recorded. You will have access to the recording in the secure Tribe of Trusted Leaders Community Hub. You also have 12 months access to the Community Hub, so even if you take a few weeks to catch up on sessions, you can still receive answers to any of your questions.
Why do I have to apply to join?
Tribe of Trusted Leaders is for members who are willing to learn, support and listen to others. Members also have to have the right level of experience and mindset, so that training and coaching is appropriate.
Do you offer a payment plan?
Yes! You can pay membership amount in full (annual plan) or you can pay monthly.
Silver: $A2097+GST in full or $A209+GST per month
Gold: $A2697+GST in full or A$269+GST per month
I have some emerging leaders. Would they qualify?
Membership is designed for leaders who have been established in their role for a minimum of 3 years. This is so they have the level of experience and knowledge that is relevant and beneficial to other Tribe members. It also means that the training and coaching provided by Marie-Claire is at the right level. Marie-Claire can provide other support to your emerging leaders. Get in touch to book a strategy session to find out more.
What are the payment terms?
There is a 30 day grace period to cancel membership. After this point you are liable for the full tuition of the program.
What if my company is able to pay?
We are able to provide you with an invoice. A deposit or full fee must be paid before the program begins.
What if I have multiple leaders who would benefit from membership?
That's wonderful that you are willing to support your leaders. Book a meeting with Marie-Claire to discuss your business needs.
What do leaders have access to when they sign up?
Every member will be given access to the Tribe of Trusted Leaders Community Hub. In the Hub, you get access to the calendar of monthly training calls and = Q&A calls. This is where you go to watch live events, watch pre-recorded sessions, access your workbooks, templates, checklists, assessment results, build relationships and get answers to your questions. You will have access to this portal for a year.
I have another question not listed here.
How is confidentiality assured?
All members of Tribe of Trusted Leaders must sign a document and abide by the Tribe Rules of Behaviour. The Tribe is governed by Chatham House Rules: no one may quote another or say where they gained information disclosed by another member without consent.
How can my manager ensure I am learning what I need to?
It's important that your manager is part of the process. Included in membership are three meetings with with Marie-Claire to discuss your Pre and post leadership development plan, as well as progress during the program.