Trusted Leader Blog
Access leadership and trust building communication tips to help you improve team productivity and safety.
Posts about workplace performance:
When it comes to safety, no company wants to see staff hurt or property damaged.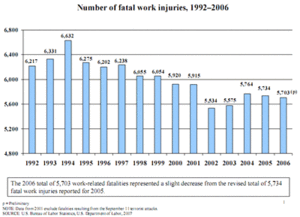 Since the early 1990's, most companies have got their act together and decreased their workplace injuries (see chart). After all, it's a no-brainer that workplace safety accidents cost businesses lots of money each year. And from a human perspective, it's always a good idea to look after people.