TRUSTED LEADER COACHING for Individuals
Coaching for Individuals is perfect for those who have spent their career refining theirs technical skills, but who realise it is time to up level their interpersonal (communication and enlisting others) and intrapersonal skills (self-awareness and self-management). My program is also for those who are non-technical - but who worry they are not trusted.
Typically, people work with me because they have taken on a new contract or job role that requires extending their capabilities. It might be that you have to:
Work with other stakeholders who you are not familiar with,
Start leading a new or existing team, or
Work within, or with, senior leadership.
You might be feeling that you lack:
The right level of leadership training or even education.
Communication skills for this new job level.
Confidence in these areas and realise that it's holding back your career.
Trust in yourself to lead, or influence, others.
Do any of those sound like you?
Individual coaching is for you if you:
have the motivation to adapt your leadership style.

strongly believe that creating a thriving environment for your team is important.

wish to prioritise time to reflect on where you are and where you need to be.

are open to learning and doing the work to strengthen your leadership skills.

realise that you need an accountability partner to boost their performance.
The aim of coaching is to move you up 1-2 levels in the TRUSTED LEADER Capability Ladder below, so that you are operating more sustainably in the Achievement Zone.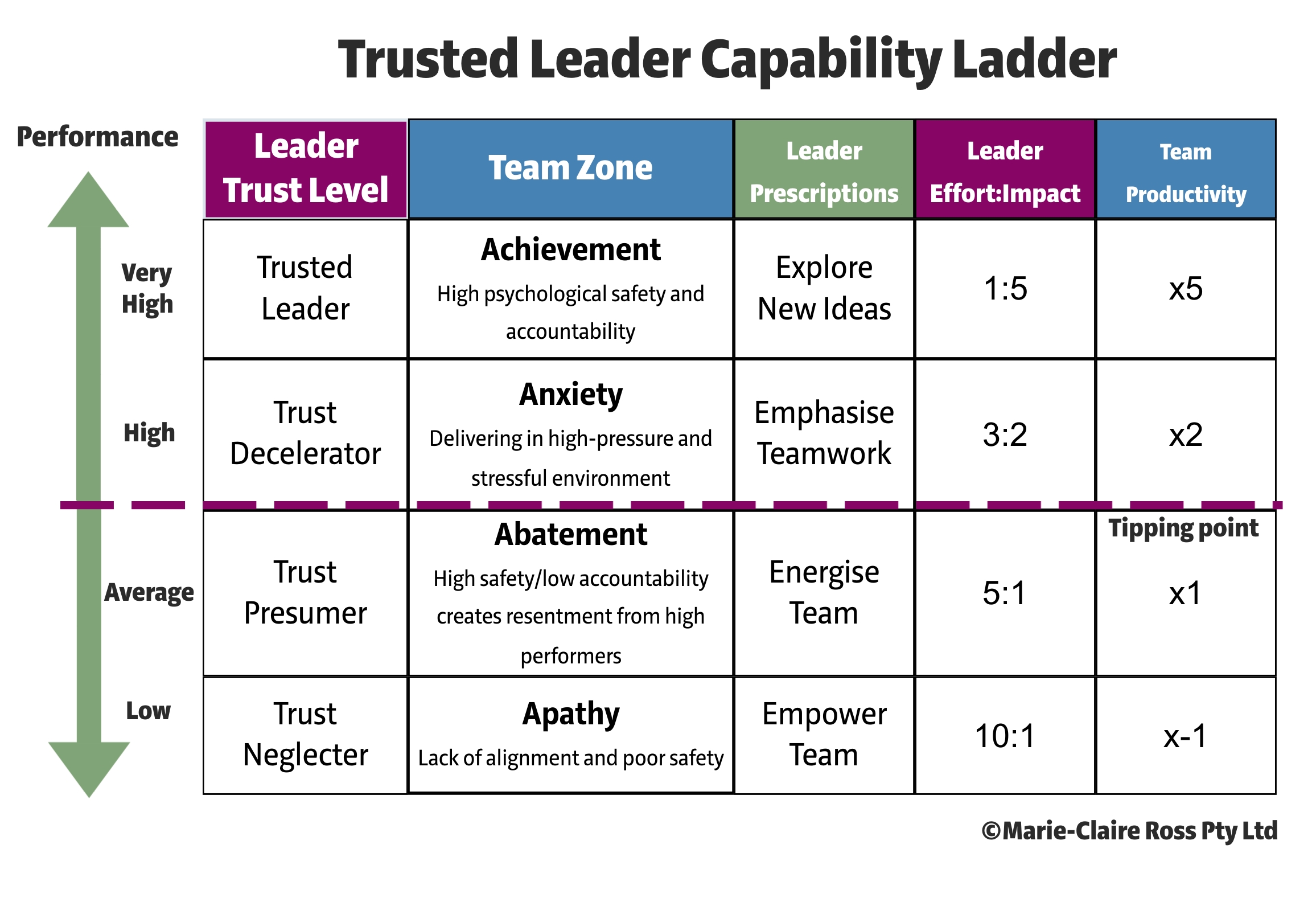 integrated trust building system
Using my Integrated Trust Building System, I work with technically-oriented leaders to:
Help you start their new job right
Increase your confidence in your communication skills.
Reduce time and headspace worrying about what you've said or how to say it.
Build trusting relationships both internally and externally.
Empower you to be perceived as a trusted advisor or leader.
Improve delegation and accountability.
Increase your ability to focus and feel more present.
Step out of an uncomfortable comfort zone.
Enhance your ability to achieve your dream job.
Reduce overwhelm and feeling out of control.
Lead your team into the Achievement Zone.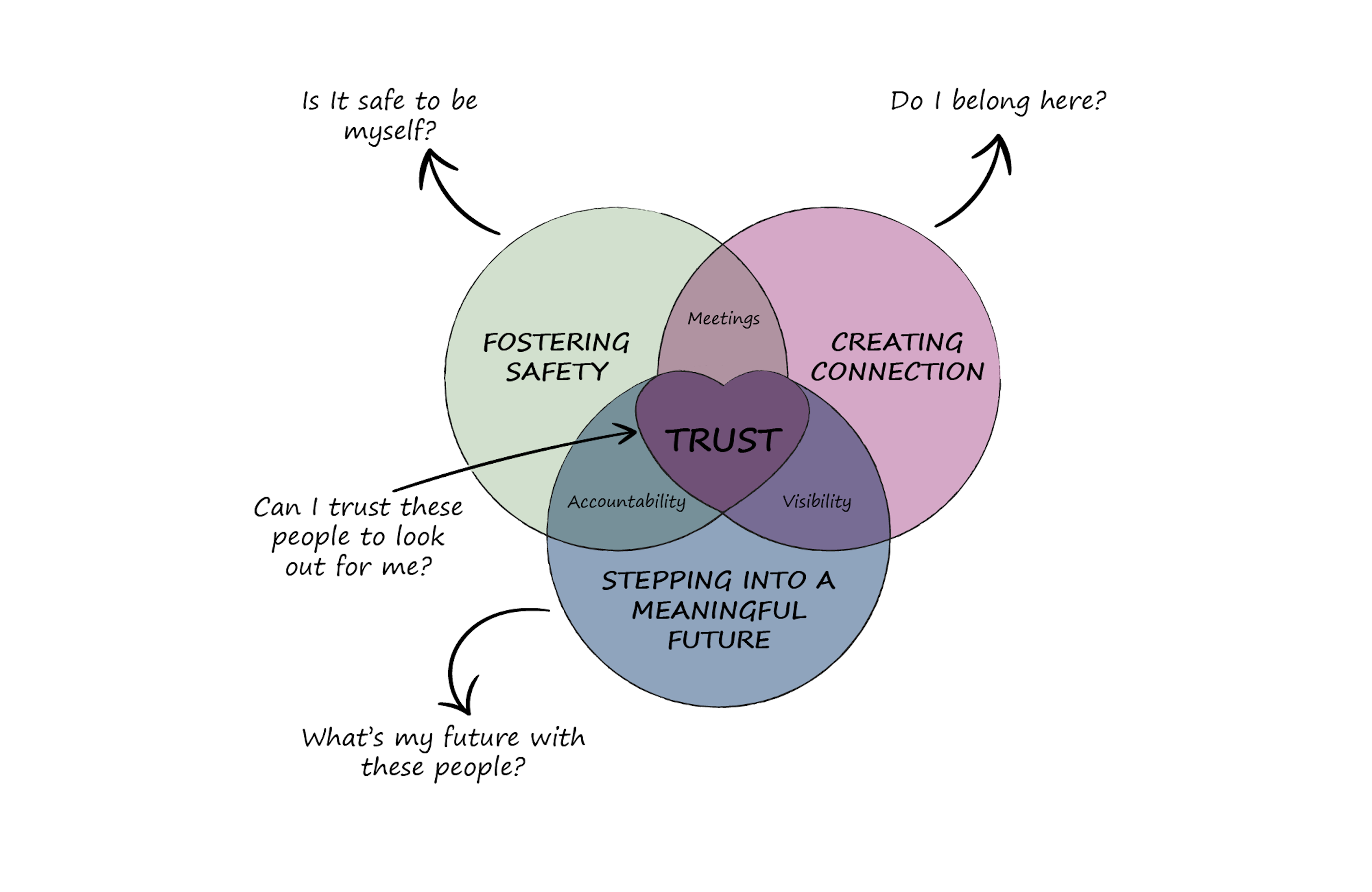 "I cannot thank Marie-Claire enough for her help and support. She truly understood what I needed and provided good advice that got me through my first few weeks in a lead role. Marie-Claire teaches you how to build trust by example. From the first moment we spoke on the phone, Marie-Claire had my trust. She listened to me carefully, understood my struggles, and came up with a plan to help me overcome the challenges. During our sessions, she showed me no judgement. I always felt comfortable to open up to her about my experience and my thoughts. It's a continuous process to becoming a better communicator. Marie-Claire has taught me that it's all possible for me, if I try. I'm now more confident when I speak, and I know I'm capable of handling tough situations at work. This is the growth that I was looking for, and Marie-Claire certainly invoked it. I strongly recommend Marie-Claire to anyone that wishes to improve their work experience."
"What was really interesting about about being coached with Marie-Claire was that as I reflected on events, I realised that some of my behaviours were contributing to my boss' trust issues. Just by making the first move, using the techniques Marie-Claire shared with me during our coaching sessions, my boss quickly reciprocated. I am enjoying my job again and I'm getting along really well with my boss, in a way that I would never have thought possible, even two months ago. My team is also much happier. Marie-Claire has some really insightful information that she presents in a captivating manner. Her questions and information gets everyone thinking differently about building trust in teams, but also work relationships and performance."
"Marie-Claire had been my favourite leadership blogger, for some time, when I decided to employee a professional business coach. We set up an eight week program and commenced prior to me starting a new role. Marie-Claire was always on topic and had the intuitiveness to understand what I needed and was open to change the program, as and if, required. Overall coaching assisted me with the tools I needed to understand, plan and develop into the role very quickly.

I can't thank Marie-Clare enough for the support and confidence she gave me throughout the program and I have no hesitation in recommending anyone that believes they, or their teams, could use some development and leadership coaching."