BUILDING COHESIVE DISPERSED TEAMS
In the new world living with COVID-19, we need to work more collaboratively than ever before, yet that's become harder as we navigate how to work separately.
For many law firms, it has been a steep learning curve for leaders in both legal and operations roles to manage people performance remotely. Legal already functions in a high-pressure environment that notoriously struggles with stress and burnout. The added uncertainty and anxiety has meant that HR directors and partners have scrambled to maintain employee health and well-being.
Leaders are working hard to ensure their team members feel connected to one another and are clear on tasks. But this extra communication and relationship building, while important, has required leaders spend a lot of time communicating, reassuring and making people feel connected.
Then, of course, one of the biggest hurdles for some leaders has been the lack of visibility around work and having to trust that their people are working. Same goes for team members trusting their peers. This has meant that some employees have overworked to prove their value further increasing anxiety.
It has all been pretty overwhelming for leaders who are already doing what they can to ensure good mental health outcomes in their teams balanced with the need to serve clients at a high level. And it's not over yet. Now, there is a requirement to lead hybrid teams – with a mixture of home and office based team members.
And many legal professionals are asking themselves: how do I manage my dispersed team well and reduce the time needed to make everyone feel connected and supported?
While managing partners and HR directors of law firms wonder what can be done to break down the silos that are forming across practice groups? As some team leaders have done a remarkable job at building trust within their teams at the expense of other teams.
Building Cohesive Teams has been designed specifically for the legal industry to support legal team leaders with effective techniques to build trust both within and across teams.
It has been created to make it easy for leaders to improve cohesion and employee wellbeing outcomes saving 30 minutes a day.
"ALPMA has engaged Marie-Claire for two separate webinars on building trust within remote teams and during a pandemic. Leadership, consistent communication and clear expectations all lead to increased trust which Marie-Claire explains effortlessly. Marie-Claire is an excellent presenter who is very knowledgable and able to convey complex information with ease and simplicity. Delivering content in an online environment, to an unseen audience, can be daunting but Marie-Claire presented a fabulous, well rounded and structured session that hit the brief."
Discover how to improve team cohesion in dispersed teams. This includes:
Four low team cohesion risks.

The link between psychological safety and accountability that all team leaders must know about.

How to climb up the Cohesive Leadership Capability Ladder.
Download Building Cohesive Teams Insights Paper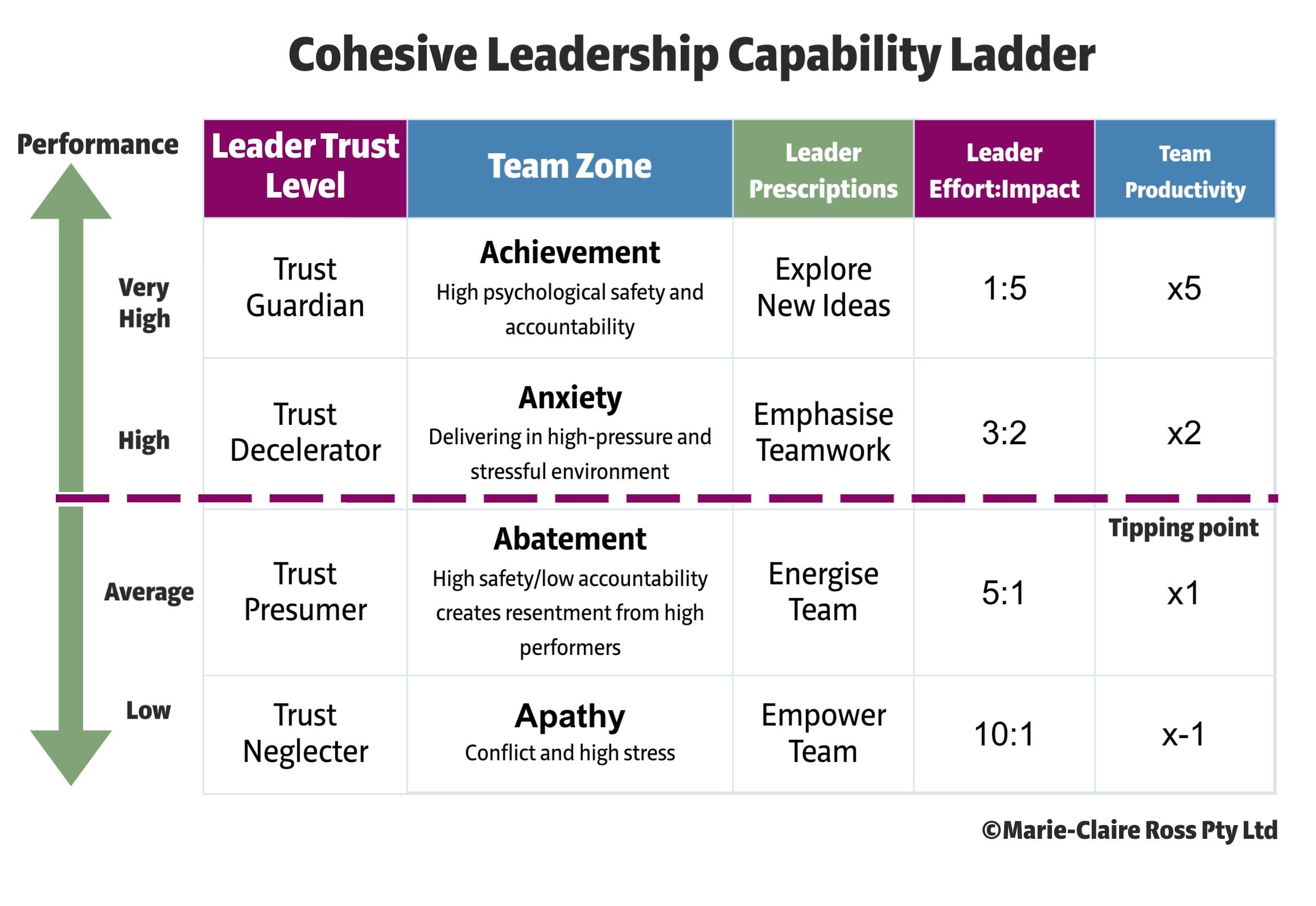 INTEGRATED TRUST BUILDING SYSTEM
This program has been designed to help leaders reduce their leadership effort, but double their team impact.
Leading thriving, connected teams that trust each other, frees up leader's time to focus on other tasks.
Teams move up into the Achievement Zone when the leader sends the signal "we're in this together."
Central to this concept is that the team leader communicates one powerful ideal – we are safe, connected and have a shared future together.
This program will equip your leaders to more efficiently gets teams out of the Anxiety Zone into the Achievement Zone that has both high accountability and psychological safety. Yet, requires less effort by the team leader, despite the team having more impact.
Drawing on neuroscience to understand the brain's response to building trust, Building Cohesive Teams offers legal professionals knowledge and tools for both themselves and their teams to thrive.
Building Cohesive Teams will support your leaders and teams in situations where:
Leaders are anxious and overwhelmed with how to lead a hybrid team.

Leaders don't have the skills to build trust across practice groups.

There is still some resistance from partners truly believing that people are working when they are at home.

Leaders are getting frustrated with the time it is taking to reassure and communicate with employees.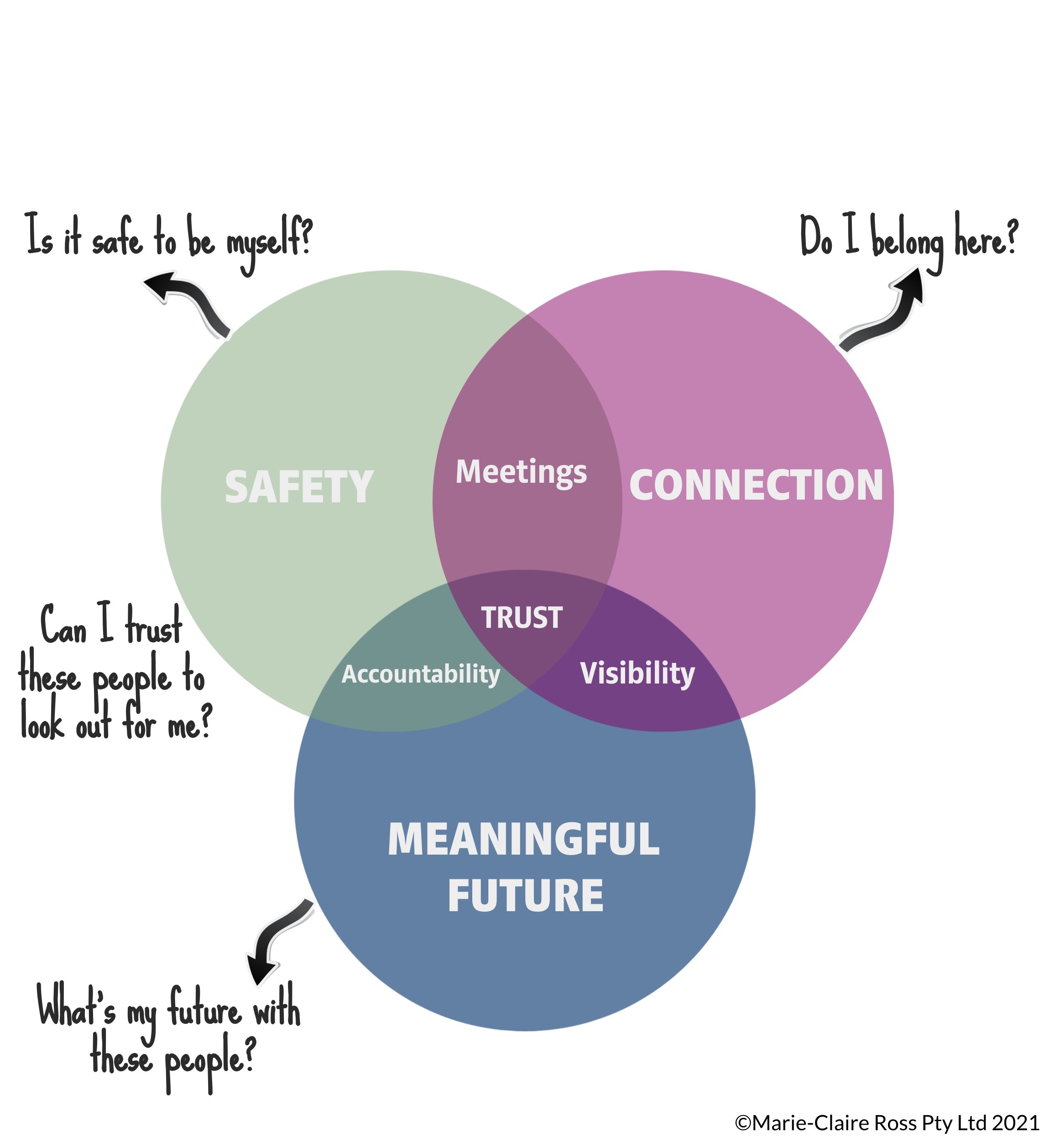 BUILDING COHESIVE TEAMS PROGRAM
This training is designed for teams leaders in a legal environment such as practice managers, operations managers, general managers, partners and lawyers.
Attendees will learn:
Why we are wired to need trust to support high performance (and reduce anxiety).

6 essential trust drivers to improve collaboration and team performance.

Tips and time-saving tools to help leaders better support their team members, in order to improve wellbeing, reduce silos and improve team performance.
WHAT PARTICIPANTS RECEIVE
A cheat sheet to make it easier to practise their learnings during meetings and one on ones.

Easy to understand tools and techniques that they can use straight away.

A workbook to undertake activities, learn important information and write notes.

Tips and tools to improve safety, connection and a shared future.

CPD points.

The opportunity for individual coaching.
This training is available both as online and face to face training. The curriculum (see below) is based on the Integrated Trust Building System It can be modified to fit into one full day or the standard two day program. 90 minute individual masterclasses can also be chosen. The program is interactive, so participants get to learn from each other. Up to 25 participants are included. The Program includes:

Design meeting – Discussion to understand leadership challenges and mindsets. This can also be supplemented with results from stakeholder interviews.
Pre-work – Participants are encouraged to do some reading before the workshop.
Interactive workshops (selected from core curriculum or additional, so that it is right for your audience).
Group coaching (optional)– This includes group coaching after the training workshops to provide feedback.
Debrief – To close out the program, results from the workshop evaluation, as well as observations from coaching will be shared with the project sponsors.

The cost for all of these deliverables starts from $3,500+GST for one online master class to up to $12,000+GST for a two day face to face workshop.