No matter which topic your choose - Marie-Claire will keep the room engaged. She insists on leading custom, highly interactive, insightful and engaging sessions, where everyone walks away with new insights and valuable tools to apply immediately.
She is an internationally sought-after keynote and conference speaker, with over 100 speeches and workshops delivered over the past 8 years to audiences ranging from 10 to 600. She does online, hybrid and face-to-face (and is fully vaxxed ready to go!)
Marie-Claire is an expert on trust at work. With her Amazon number one best seller, TRUSTED TO THRIVE, she disrupts status quo thinking and helps leaders understand a new way of leading teams. She will leave your attendees thinking and talking long after the session is over. Whether you want a 30 or 60 minute keynote Marie-Claire will engage and share her expertise in a simple, experiential and engaging manner.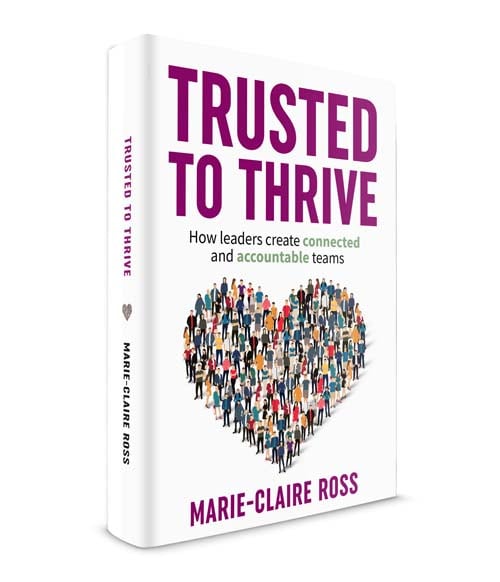 "Marie-Claire's talk was phenomenal. Everyone has been given some very good tools and questions to improve trust. Absolutely phenomenal."
Alan Joyce, CEO, Qantas Airways Limited
Extremely Engaging!

Marie-Claire Ross delivered a webinar event for AuSAE members. She was extremely engaging, insightful and practical! Providing timely information and frameworks to our community. Marie-Claire shared a great wealth of knowledge and was very open and generous to our members. We look forward to reengaging Marie-Claire again in the future.
Thought Provoking!

Marie-Claire presented at our SIRF Roundtables Safety Innovations Roundtable. Her presentation was engaging, thought provoking and she introduced new information & tools which attendees saw genuine value in. Marie-Claire's session received a rating of excellent from all attendees.
Practical Advice!

Marie-Claire spoke at Associations Forum's popular CEO & Chair Symposium in February 2020 in Adelaide. Her session was interactive and gave practical advice. She encouraged interaction between the delegates while going through the steps for fostering a high trust senior leadership team. We appreciated Marie-Claire's involvement and subsequent interaction with the delegates rather than zooming away:)
"Great chairperson and facilitator. Marie-Claire was able to think quickly and navigate some interesting challenges regarding keeping the pace moving and asking questions when no one else did, and steering the conversation when necessary. There were great insights between presentations and we were kept on track for timing."
"ALPMA has engaged Marie-Claire for two separate webinars on building trust within remote teams and during a pandemic. Leadership, consistent communication and clear expectations all lead to increased trust which Marie-Claire explains effortlessly. Marie-Claire is an excellent presenter who is very knowledgable and able to convey complex information with ease and simplicity. Delivering content in an online environment, to an unseen audience, can be daunting but Marie-Claire presented a fabulous, well rounded and structured session that hit the brief."
"Thank you for your workshop. I found your session incredibly engaging and useful, and have lots of things I want to try with my team."
Enquire about Marie-Claire Speaking at your Next Event