According to Olivero, Bane and Kopelman, training on its own improves productivity by 22%, but combined with coaching, increases productivity by an astonishing 88%.
Supplementing training and facilitating with coaching is the best way to ensure your leaders are supported to change their behaviours and learn new ways to lead their teams in the new hybrid working environment.


Marie-Claire uses a range of techniques customised to each leader's current capability that best move themselves and their team into the Achievement Zone, where they apply less effort but increase their team impact.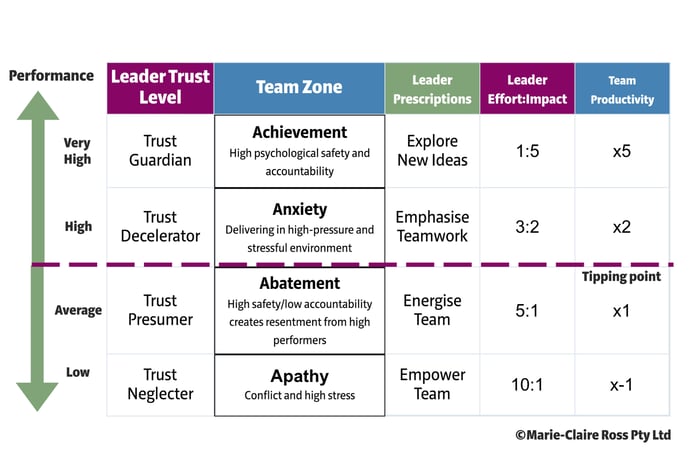 Leaders need a sounding board and a safe place to discuss issues and challenges. Coaching sessions are designed to help leaders step back, reflect and re-focus their efforts to meet the needs of their team in changing situations.
Coaching helps leaders be more effective in their role, and meet the challenges of their particular organisation, while increasing personal satisfaction and reducing anxiety both with themselves and their team members
Coaching is undertaken either individually or through group coaching. It is online and is done over a few months. It includes mid-point and final status updates with the main sponsor, to review progress.
"It's hard to quantify the return you get from this sort of work but it was clear that for team members who went through ongoing coaching with Marie-Claire - their confidence in trying different things increased a lot. They gained the confidence to try and be a better manager, to try different techniques and they gained some understanding in responding their team and taking the feedback and turn that into something better. I think they were also better at receiving and interpreting feedback. Less defensive when they were receiving feedback as to why they were being criticised or why their team weren't responding in the way they would have hoped. It was a good way to reinforce the learning and create new habits."
Alick Osbourne, CEO, Seasol International
"What was really interesting about about being coached with Marie-Claire was that as I reflected on events, I realised that some of my behaviours were contributing to my boss' trust issues. Just by making the first move, using the techniques Marie-Claire shared with me during our coaching sessions, my boss quickly reciprocated. I am enjoying my job again and I'm getting along really well with my boss, in a way that I would never have thought possible, even two months ago. My team is also much happier. Marie-Claire has some really insightful information that she presents in a captivating manner. Her questions and information gets everyone thinking differently about building trust in teams, but also work relationships and performance."
Data Engagement Manager, Transport Organisation