Attention Safety Communicators:
Transform Your Safety Communication:
How to Create Targeted and Inspiring Safety Messages for a Productive Workplace
Dear Fellow Workplace Communicator,
You're in the right place if you've ever dreamed about being able to create clear, consistent safety messages that instantly engage and persuade your audience, to work safely.


You know you need help when:
Safety is seen as boring and staff tune out.
Your employees are not focused on the risks around them.
Staff often question management intentions wondering "Are they serious or is this just lip service?"
Morale is low.

You worry about getting a late night call that something has gone terribly wrong on-site.
Injuries are high and keep rising.
Employees aren't following the safety system and are getting things wrong.

This book is for you if you want to:
Create clear, consistent safety messages, so everyone works to a common standard.
Engage workers on safety, no matter how cynical.
Understand the psychology behind why people don't listen.
Learn how to produce authentic and heart felt communication that builds trust.
Quickly generate relevant safety communication with easy to use frameworks and templates.
Accelerate your leadership and communication skills to boost your career prospects.
Create a safe workplace that sets a new benchmark for safety in your industry.






"Why I'm passionate about helping you craft targeted and relevant safety messages that easily
engage your workforce..."
When I started my career almost 20 years ago, I learnt quickly that if I was to succeed as a market researcher I needed to learn how to write simply and directly. Analyzing large reams of data and interview transcripts required communicating results in an engaging manner, so as not to lose the attention of time-poor advertising or business executives (or my job).
After a career change to writing scripts and producing videos, I was stunned at how poorly companies wrote their own communication, especially safety. Complicated, legal and unfriendly documents seemed to be the rule. It was almost like safety was a second thought.
A turning point me for was working with a large Australian company that had a high injury rate. Their training documents were simply awful – overly technical, wordy and they "spoke down" to their employees. After creating a series of isolation videos for them, we were able to dramatically improve the engagement of staff on safety issues, but also measurably reduce injuries. Almost overnight morale and productivity improved.

It was a life defining moment for me. Finally, I felt like I was making a real difference to the world, as I realised I could actually save lives through clear communication. My higher purpose had been ignited.




This is why I'm so passionate about working with companies to improve their safety communication. I know just what stunning results can be achieved by improving how you communicate risk.


"From that moment forward, I decided to work with companies on safety
messages. No longer did helping organisations market products feel
meaningful."
Over the past 7 years through designing and testing safety communication for over 23 organisations, I've developed an effective system to help safety communicators improve how they engage and motivate people on safety.


The strategies I teach are the same ones I use for my own clients which has increased workplace productivity, decreased training time (by 67%), improved morale and reduced injuries. All by clearly explaining safety risks and what to do with psychologically based techniques.


If you're ready to start creating relevant, targeted, authentic safety communication that has everyone talking the same language on safety, then I invite you to read…
If you're ready to buy the book now, click add to cart below.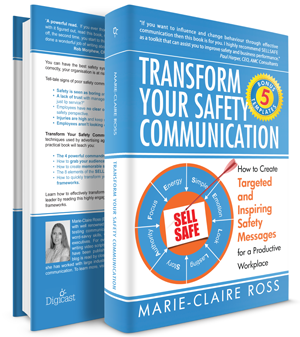 This is what you will learn:
Discover 4 advertising secrets to create relevant and targeted safety communication.
Uncover the psychology behind why safety communication gets ignored.
Overcome "we've heard this all before" bias by leveraging 3 emotional drivers.
Awaken the hidden self-interest within your workforce to encourage positive behaviour change.
How to create memorable safety communication.
The 8 Elements of the SELLSAFE formula to change safety behaviour.
How to quickly transform your safety communication with 5 easy templates and frameworks.
What People are saying about
Transform Your Safety Communication: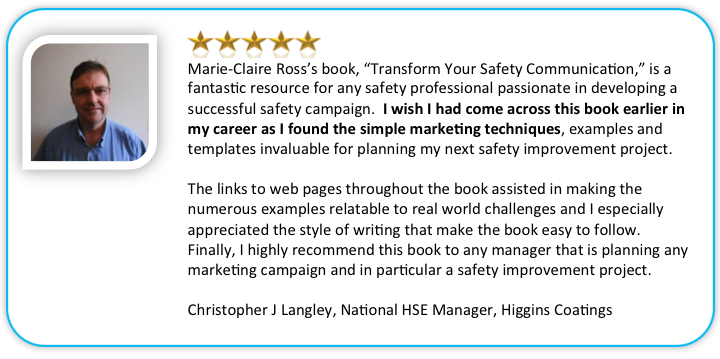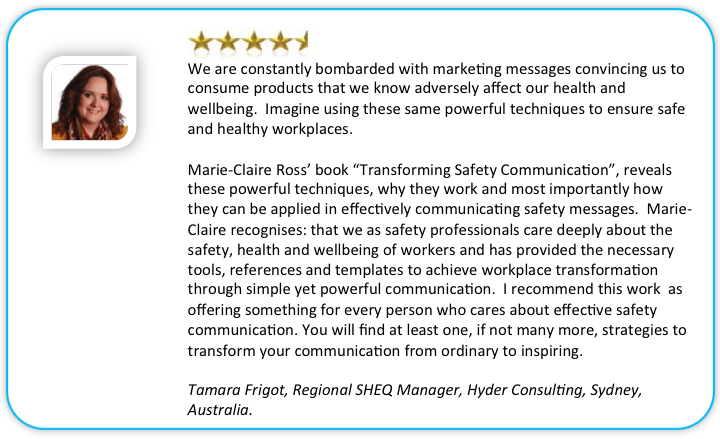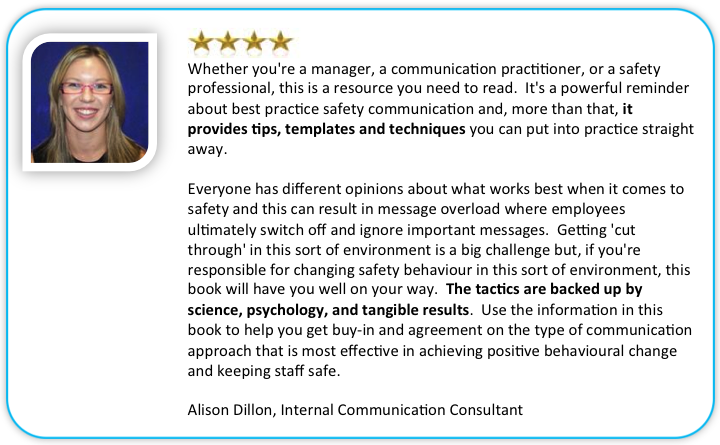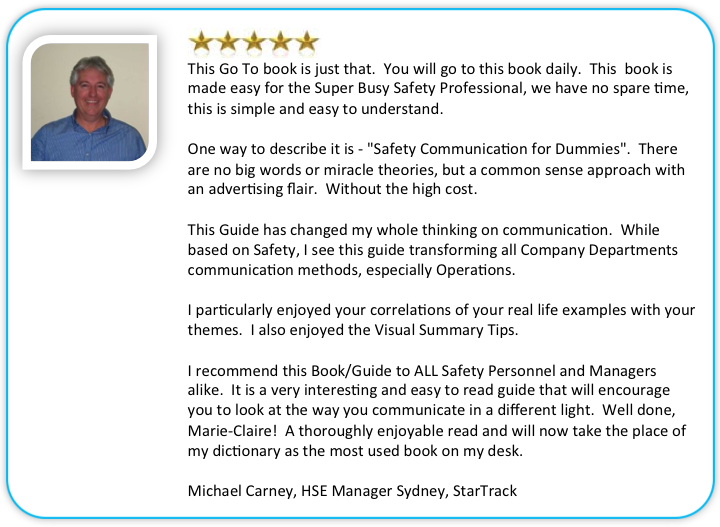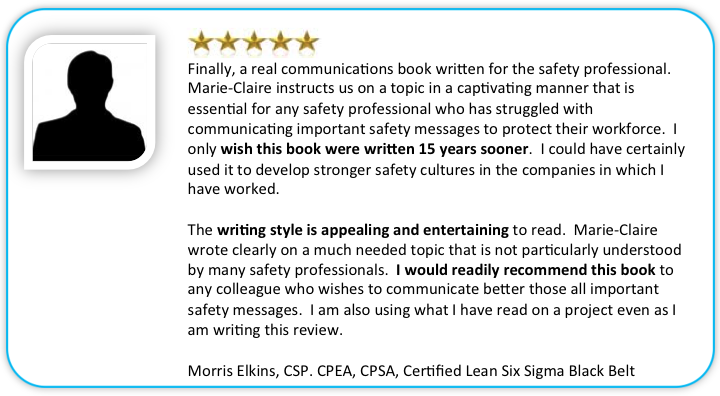 SHP Online (IOSH magazine):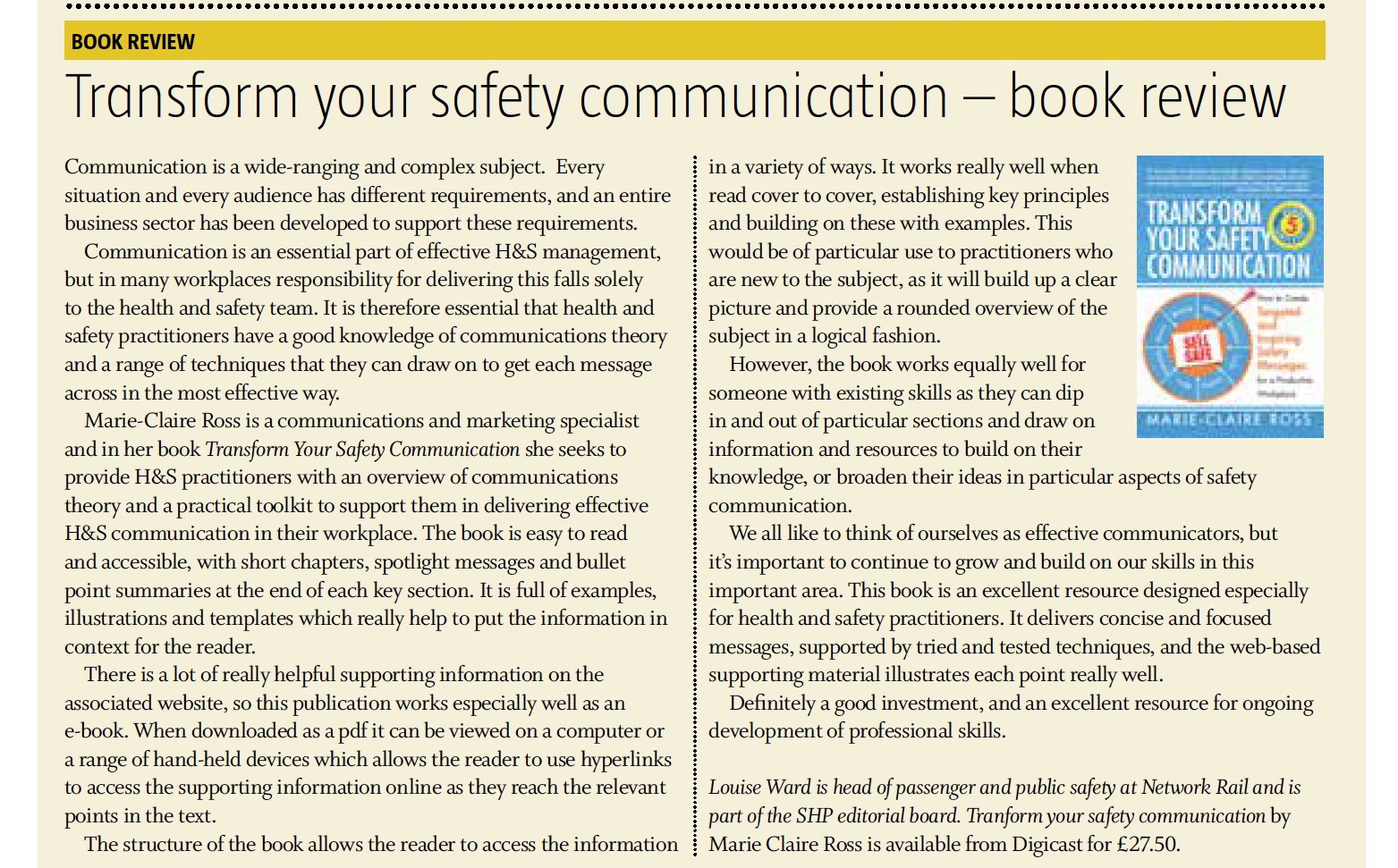 American Society of Safety Engineers - Professional Safety Magazine. Positive recommendations written by Jeffery Camplin, M.S., CSP, CPEA
Safeguard New Zealand: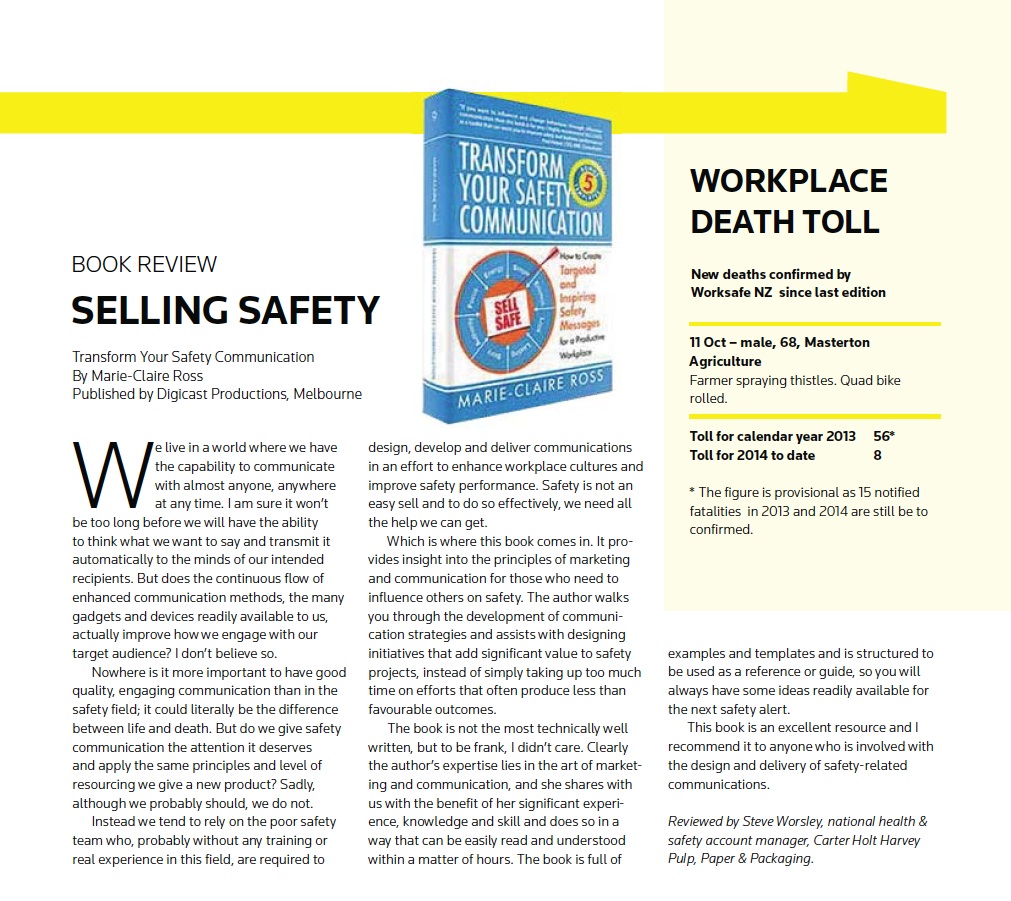 HSW Magazine (UK):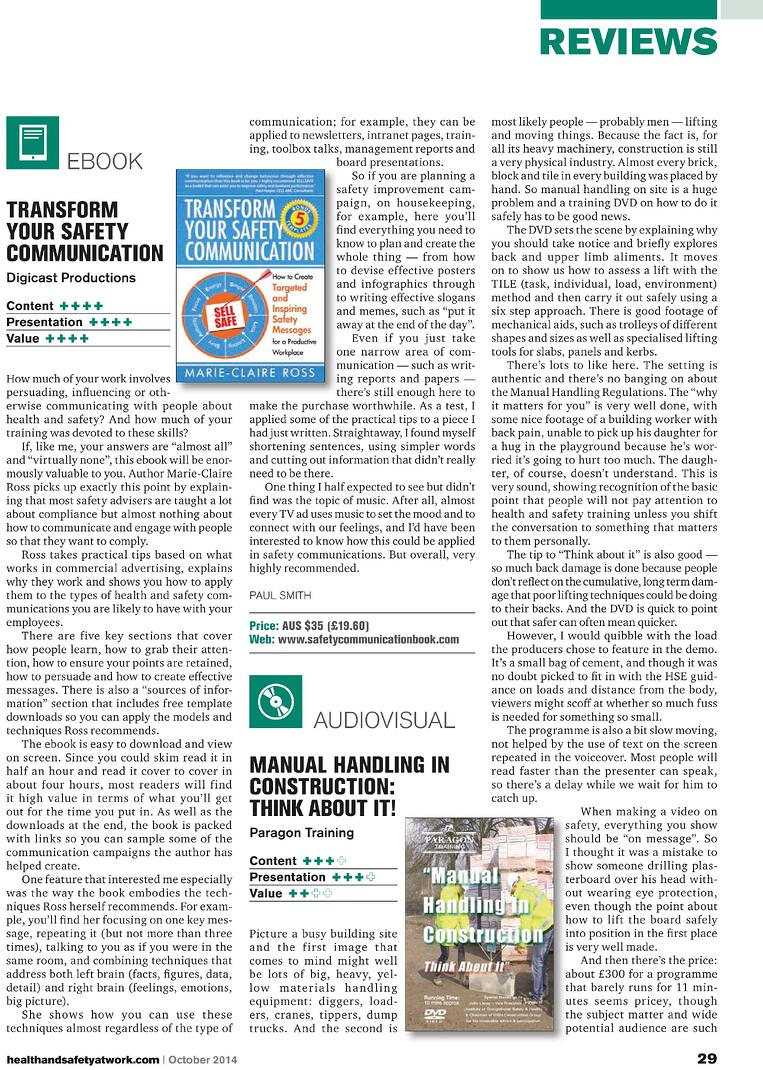 Get ready to create a safe and productive workplace and be seen as an
inspiring safety leader...
Currently, safety communication books are pretty hard to find. When you do locate one, they're wordy and written for academia.
This means they're really hard to understand and they give limited practical advice (if any). And they're written by academics who rarely get out of the classroom to create safety communication materials. They're also really expensive at around $80 each.


Fortunately, this ebook is a lot friendlier to read, understand and implement.

Rather than $80, it's

A$35+GST

NOW A$29 JUNE SPECIAL PDF ebookand US$45 NOW A

$35

paperback.
"I invite you to be the inspirational safety leader you've always dreamed of,
who can magically transform workplaces for the better, by keeping people
safe so they can return home to their loved ones..."
You know that your job is one of the most important in the world.
By clearly communicating the risks inherent in your safety processes and getting people to understand why, and how they need to keep safe, you're contributing to better business practices and a better world.
Think about the difference you can make to your workmates, your family and even your career, when you've learnt and practised the techniques in the book.


Being able to develop a safe workplace ensures that you save lives, but it also means you're contributing to a positive work environment that is productive and profitable.
I invite you to say "YES!" now to being the difference you always wanted to be!
My warmest wishes for your success,

Marie-Claire Ross
Chief Enabling Officer & Author
Digicast Productions

PS: This ebook comes with a 30 day guarantee. Get yours now and be the best safety communicator in your organisation.