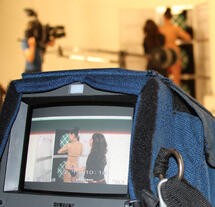 One of the questions companies often want to know is, how much does it cost to produce a video?
Let's take a look at the costs for corporate videos or any other type of marketing video that you use online or offline to promote your product or service. Visit this page, if you're after training video costs.
Creating a video is dependent upon lots of variables.
The most important thing to consider before a video production house can work out your cost: is what are you trying to communicate in your video and what is the right concept?
Often, companies come to us and ask: "we want a video, how much?"
But it's like ringing up a travel agency and saying how much for a holiday (and providing no other information, say like, where you want to go and how many people are going). Of course, it's hard for the travel agency to give you a quote, unless they make assumptions (that you want to stay in Australia, that you want basic 2 star accommodation versus 4 star). But a good travel agent ask questions such as: Where would you like to go? How many days do you want to go for? Would you prefer luxury accommodation or basic accommodation? Do you want to include an island tour? Do you want to go to different locations?
And it's the same with a video. The only way anyone is going to give you a price, is if they make a lot of assumptions. What you need to know before you ring is: what are you trying to achieve? If you don't know, then a professional production house will help you (but be warned that the majority will not be able to). In fact, it's best to actually meet with a video production company first to discuss what you are trying to achieve and then they can come back to you with a solution and cost. Otherwise, for them to try and work out a price they need to know how long do you want the video to be and how many days of filming for a basic quote. But it will be basic and it will be more of a cookie-cutter approach, rather than give you a customised solution for your company.
When it comes to producing a video, some businesses only focus on finding the "cheapest" supplier, therefore sacrificing quality and customer service. But there is one thing, you should never, ever skimp on. And that's the expertise of how to best communicate your message and how to put that together visually. This is where the cheapest supplier cannot help you.

After all, while the cost of video production has gone down in recent years, it doesn't mean that the quality of videos being produced has improved. If anything, YouTube is littered with millions of poorly made videos. Make sure your video isn't one of them.
Video Cost Options

Now that you hopefully understand the holiday analogy, and some of the pitfalls with getting a video produced, here are a list of the most common "options" found in producing a video:
Concept creator/script writer
Producer (to organise filming etc).
Animations (3D or 2D)
Actors
Studio (starting from around $450 per half day)
Amount of filming (minimum half day, depends on number of crew and camera used)
Type of camera used (consumer, pro or broadcast series. Consumer is at phone quality or small home video camera, while pro is generally used for weddings, while broadcast is used for television production. Interestingly, camera hire rates aren't that much different between pro and broadcast (around $200+ extra per day, so can be worth the extra money for more professional looking pictures and longevity).
Type of camera operator (experienced camera operators are truly amazing and can really tell capture the essence of what you're filming. Avoid amateurs or students, as they tend to focus on the wrong thing or wobble too much, which is really distracting).
Length of production (eg: 5 minutes)
Director (to direct)
Amount of graphics required
SEO marketing/online marketing strategy expertise
Stock library footage/photos
DVDs (number needed to be duplicated/printed)
Photography
Travel costs
Voiceover artist (prices can vary. Affordable prices can be from studios who bulk record to highly expensive brand name narrators)
Jib, cherry picker, crane (for interesting shots)
As you can see, there are many options available, but the most important step in working out your video costs is to work out what you need first. Then, you can easily calculate whether all of the added costs are worthwhile. But as a general rule of thumb, corporate videos cost around $1,000 to $3,500 per finished minute (+GST).
Types of Corporate Videos

So let's have a look at some of the different styles of marketing videos.
1. Music Style Corporate Video

This style is great to open an event or to be used at a trade show. Upbeat music is used and titles tell the story. No narration is required (too noisy for anyone to hear at a trade show or doesn't convey enough excitement at an event).
The trick here is to ensure that this short style of video conveys your main message in a substantial way, rather than in a superficial blur of vision. It also needs to be edited to the beat of the music to make it really effective.
Costs for this type of video production can be lower, because there is no voiceover. However, if you need to get lots of vision made beforehand, costs will increase.
Here is an example of a video that we did for Suzlon for a trade show, that has worked really well for them:
Price depends on the length and the complexity of the visuals, but expect the price to be upwards of $2,000 for a 2 minute video.
2. Standard Marketing Video

The difference between an amateur video and a professional one can be many. But one of the most important is what makes video so special is that it leverages off the human predilection of visuals. Our brains love visuals and learns much faster from pictures than words. We're really good at remembering pictures and they draw our attention.
To make this work in a video, you need to complement the audio information with relevant visuals. If you don't do this, people will give up listening because it's too hard to work out what's going on or even if they do stick with it, they will remember very little. (You can read more about this at 5 Mistakes Companies make with Videos).
This means you need to use lots of the right visuals and have a script that goes through the information clearly. To do this properly, you need to film a lot more than you will have in the finished product. It's called a shooting ratio. We aim for 4:1, which is four times the amount of vision for a finished minute. So for a 5 minute marketing video, we often have 40 minutes of vision to go through. This might seem excessive, but it can be tight for some shots (the movie industry starts at 6:1). After all, for each process, you need to film three different types of shots -close up, mid shot and wide shot to really make it easy to understand and interesting to watch.
Here is an example of a marketing video we did for Tuscan Tan to really highlight how much more effective their product is versus competitors.
This type of training video (that matches visuals to the audio content) is highly effective and the minimum length would be around 2 minutes and upwards. Costs will depend on the length, amount of filming, voiceover and script writing. Expect prices to start from $1,500+ per finished minute.
3. Advanced Training Video
This really uses Standard Marketing Videos as a base and then adds extras. Here are some of the most commonly used additions:
Actors - Generally, we don't recommend using actors. Mainly because they are expensive and also because if it is to train your own staff, it is more effective to use your own people. They know what to do and staff like looking at their peers. However, actors can be worth their weight in gold if you need them to act out a complicated scenario or you have no available staff. Take a look at this complicated, mocked-up scenario of an elite athlete receiving counselling from a psychologist .
Expect to pay around $1,000+ per actor per day, plus annual licensing fees.
Animations - Animations are an incredibly powerful promotional tool. The quality level can vary and you can see a lot around now which are very basic (not much movement) to more details and movement which is at the top end of the price scale. We only recommend animations for important processes that you just can't see, such as how the body works or internal mechanisms in equipment. See the 3D animation below on how stress effects the brain that we produced for the Country Fire Authority. Expect to pay around $1,500 per minute for basic animation and up to $3,500 per minute for 3D animations.
CFA - How Stress Affects Your Brain from Digicast Productions on Vimeo.
As you can now understand, corporate video or marketing video costs can vary in price depending on all of the extras you want to include. But the most important considerations are: a script that is easy to understand and written for your audience, camera vision that focuses on the right visual information to aid learning and editing techniques that seamlessly melds visuals and audio for instant understanding.
To find our more, take a look at our video production examples, read our video production case studies, visit our Video Production Resource Centre or call us on 03 9696 4400.
You can also book a video requirements appointment with us to discuss your video requirements.