A leadership competency assessment tool for leaders and their leaders to evaluate their team leadership skills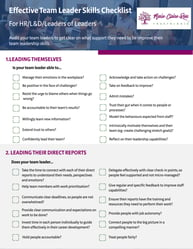 Ever wanted to know how you rate for team leader skills? Or perhaps you want to have a better understanding of the level of effective leadership skills with your leaders?
In this complimentary Team Leader Assessment you will receive:
A checklist for HR, L&D and leaders of leaders to assess individual team leaders.
A complementary checklist for team leaders to assess their own team leadership skills.
Both checklists are a double-sided page each. They are a great way to open up a discussion on effective leadership skills gaps to work out leadership development goals to close the gaps.

After all, when we audit leaders skills together, it enables leaders to create targets for improvement that produces results that benefits themselves, their team and the organisation as a whole.
Download Leadership Assessment Test NOW